Airport Deputy Recognized 2022 Airport Business "TOP 40 Under 40"
Thursday, December 15, 2022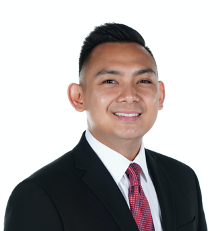 Crediting the hard working and dedicated employees of the A.B. Won Pat International Airport Authority, Guam (GIAA), Deputy Executive Manager (DEM)—Artemio Ricardo "Ricky" A. Hernandez, Ph.D., IAP was selected and awarded the 11th Annual Airport Business 40 Under 40, Best Young Professionals in 2022. Dr. Hernandez was selected among other aviation professionals from throughout the United States and Canada, competing with hundreds of nominations from all facets of the aviation industry. All 40 professionals and their write-ups were published on the latest edition of Airport Business Magazine.
The Airport Business 40 Under 40 recognition showcases the most innovative and emerging leaders who are building the future of aviation in America. All the winners were awarded based on their distinguished accomplishments, commitment, and drive throughout their respective careers.
Dr. Hernandez was quoted in the magazine stating, "This service to the public would not be as rewarding without the outstanding staff and management of the GIAA—professionals who commit to quality service 24 hours a day, 7 days a week. Their exceptional efforts make my job that much easier and infinitely more enjoyable." 
John "JQ" Quinata, GIAA Executive Manager congratulated Dr. Hernandez stating, "Our Airport family continues to applaud Deputy Executive Manager, Dr. Hernandez! I'm very proud to work side-by-side with him to see his drive and work ethic he brings to the GIAA each and every day." Quinata continued, "This 40-Under-40 distinction should give us additional comfort and confidence that Guam and our airport is in excellent hands with his type of leadership."
AviationPros is the aviation industry's leading online resource for news, information, and analysis covering the myriad aviation sub-industries: aircraft, airlines, airports, air operations areas (AOA), aviation security, education and training, engines and components, fixed-based operators (FBOs) and tenants, ground support equipment (GSEs), ground handling, and tools and equipment. More detailed information can be found at https://www.aviationpros.com.
Quicklinks
To assist you in planning your departure or arrival at the A. B. WonPat International Airport, Guam, some general information is readily available...

Learn More