Airport Unveils New Inline Baggage Screening System
Wednesday, January 28, 2015
Yesterday, the A.B. Won Pat International Airport Authority, Guam, proudly unveiled plans and kick-off the work for the installation of their new inline Baggage Handling System. This $26 million system, set for completion by 2016, will greatly improve the experience for passengers traveling through the Guam Airport. The Airport Authority will be able to double the capacity of baggage handling and screening while freeing up valuable floor and ticket counter space in the air terminal.
After months of coordinating with key airlines and airport stakeholders, since July 2014, the high-priority project funded by the Department of Homeland Security (DHS) Transportation Security Administration (TSA) is ready to kick-off. All U.S. airports compete for limited DHS/TSA funding which is normally granted to US large hub airports. Ever since the original TSA baggage screening pods were installed and began operations in the ticket lobby, the A.B. Won Pat International Airport Authority, Guam has been persistently lobbying for funding assistance.
TSA funds were available weeks before FY'12 ended and the Airport Authority acted quickly to secure a grant for a recapitalization study of the screening equipment. The study was expedited and resulted in a justifiable case for optimizing of the TSA screening system. The A.B. Won Pat International Airport Authority, Guam was ready, and way ahead of other airports in terms of preparation, so they were awarded the TSA grant at the end of FY'13 over other airports in the nation.
The airport's contractor, Siemens Postal, Parcel & Airport Logistic LLC, will be replacing the baggage handling system with an upgraded state-of-the-art system with three (3) new pods featuring automated screening technology. The current manual system screens at the most 200 bags an hour on each machine. The new system's throughput capacity enables the screening of up to 680 bags an hour for each machine! The new system is also designed to meet additional capacity needs and allow for future growth. The elimination of the x-ray pods from the ticket lobby will definitely improve the passenger experience, freeing up space for movement. Additionally, valuable space will be opened up to new carriers in need of dedicated ticket counter space.
Airport Executive Manager, Charles H. Ada II stated, "2015 is going to be busier than ever before here at the Airport! This new baggage handling system has been long in coming and we're proud of our strong partnerships with federal regulatory agencies, namely TSA and FAA, in funding some of our critical capital improvement projects that increase our efficiency and safety."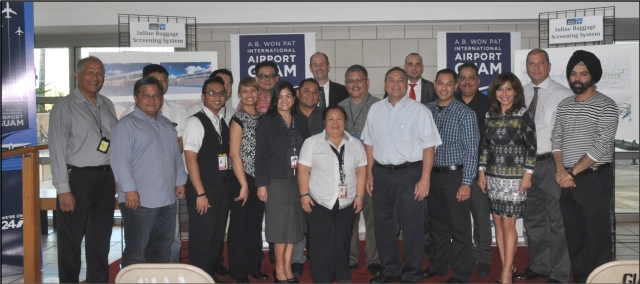 Airport Stakeholders gather with Governor Eddie B. Calvo and A.B. Won Pat International Airport Authority, Guam Board and Management for the Project Unveiling of the new Inline Baggage Screening System.
Quicklinks
To assist you in planning your departure or arrival at the A. B. WonPat International Airport, Guam, some general information is readily available...

Learn More