GIAA MARTC Concludes Successful ACI Safety Management Training
Tuesday, March 10, 2020
Tamuning — The Antonio B. Won Pat International Airport Authority, Guam (GIAA) is pleased to announce the successful conclusion of the Safety Management System (SMS) training workshop under the auspices of the esteemed Airports Council International (ACI) Global Training Programme – the world's leading provider of airport management and operations education — offering executive leadership, professional accreditation, subject-matter competency and personalized in-house training courses, as well as a wide range of web-based coursework.
After numerous conversations to bring critical training for aerodrome professionals closer to our region and to make travel to and from training venues less expensive for all our airports, GIAA established the Micronesia Aerodrome Regional Training Center (MARTC) last October to serve as a training venue here in Micronesian region. GIAA had committed to host four (4) ACI courses in safety management in 2020. The first held training in January was for executive managers and the three (3) subsequent courses were slated for technical staff to avail of.
The ACI Global Safety Network (GSN) Diploma Programme is a six (6) certificate programme designed to provide participants with a broad and detailed understanding of safety in all areas of airport operations to meet the needs of airside operators and safety managers in developing, implementing and operating effective Safety Management Systems (SMS) in line with standards from the International Civil Aviation Organization (ICAO), and the Federal Aviation Administration (FAA).
GIAA welcomed six (6) airport staff from off-island; four (4) from Pohnpei Port Authority and two (2) from Palau International Airport who joined 12 GIAA staff for the five-day intense training course.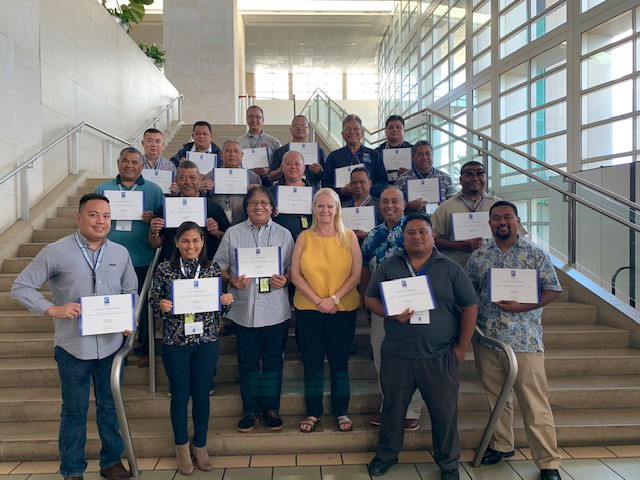 (From left to right) First row: Anthony Quidachay, GIAA Safety Administrator; Trini L.G. Cotelesse, GIAA Management Analyst II; Jayson Ringlen, Pohnpei Port Authority (PPA) Chief of Airports Operation; Vereen Mesubed, Airport Police Lieutenant, Palau Bureau of Aviation; Second row: Pete T. Camacho, GIAA Planner IV; Debbie Riley, Instructor – ACI Global Safety Network; John "JQ" Quinata, GIAA Deputy Executive Manager; Third row: Joseph N. Cruz, GIAA ARFF Fire Captain; Osel Rengulbai, Safety Management Systems Officer, Palau Bureau of Aviation; Fourth row: Baron Mendiola, PPA Seaport Manager; Gerald O. Javier, GIAA Airport Operations Supervisor; Bronson Sam, PPA Facility and Construction Manager; Fifth row: Alfredo S. Juaneza, GIAA Refrigeration Mechanic Supervisor; Pedro N. Lizama, GIAA Safety Inspector Supervisor; David B. Herrera, GIAA Transportation Supervisor; Zorro Donre, PPA Human Resource Manager; Sixth row: Delbert N. Benlot, GIAA Engineer II; Edwin H. Kaulia, GIAA ARFF Fire Captain; Ralph E. Cruz, GIAA Building Maintenance Supervisor; Seventh row: Daniel A. Mantanona, GIAA ARFF Fire Captain
Quicklinks
To assist you in planning your departure or arrival at the A. B. WonPat International Airport, Guam, some general information is readily available...

Learn More