GIAA Welcomes 1st Scheduled Busan Flight Since Pandemic; 1st Flight to Utilize East International Arrivals Corridor
Wednesday, April 20, 2022
Welcoming the first scheduled flight from Busan, South Korea since the onset of the COVID-19 pandemic, the A.B. Won Pat International Airport Authority, Guam (GIAA), together with the Guam Visitors Bureau (GVB) greeted passengers on Jin Air's newly resumed Guam-Busan-Guam route. Flight # LJ773 arrived at 1pm, Saturday, April 16, 2022, from Busan, carrying 85 passengers, 17 of which were participants in the GVB's Guam Familiarization Tour for Busan- based media and influencers.
"This is a testament to the continued support that Governor Leon Guerrero and Lieutenant Governor Tenorio has provided the GIAA throughout the COVID-19 pandemic where we are at this point to be able to welcome more visitors and flights to Guam," stated John M. Quinata, Executive Manager of the GIAA. "The GIAA team was excited to greet our visitors but also to welcome the first flight into the east portion of our International Arrivals Corridor which serves passenger Gates 9 through 21."
Previously, all arrivals only utilized the west end of the International Arrivals Corridor serving Gates 4-8—which opened January 15, 202—upon completion of the International Arrivals Corridor project. Jin Air's Busan flight was the first to utilize the passenger route and corridor from the East passenger gates.
Arriving passengers were greeted by island music, provided hand sanitizers, and received a warm and personal "Hafa Adai" greeting by GIAA and GVB management and staff.
"The resumption of Jin Air's service from Busan is indicative of the continued recovery and resumption of travel to Guam," stated Dr. Artemio "Ricky" Hernandez, GIAA Deputy Executive Manager. "At the height of the pandemic, we had flights from just 3 destinations. With the addition of the Busan route, we are now servicing 9 direct routes and—based on schedules from our airlines—we anticipate adding 4 more in the coming months," concluded Dr. Hernandez.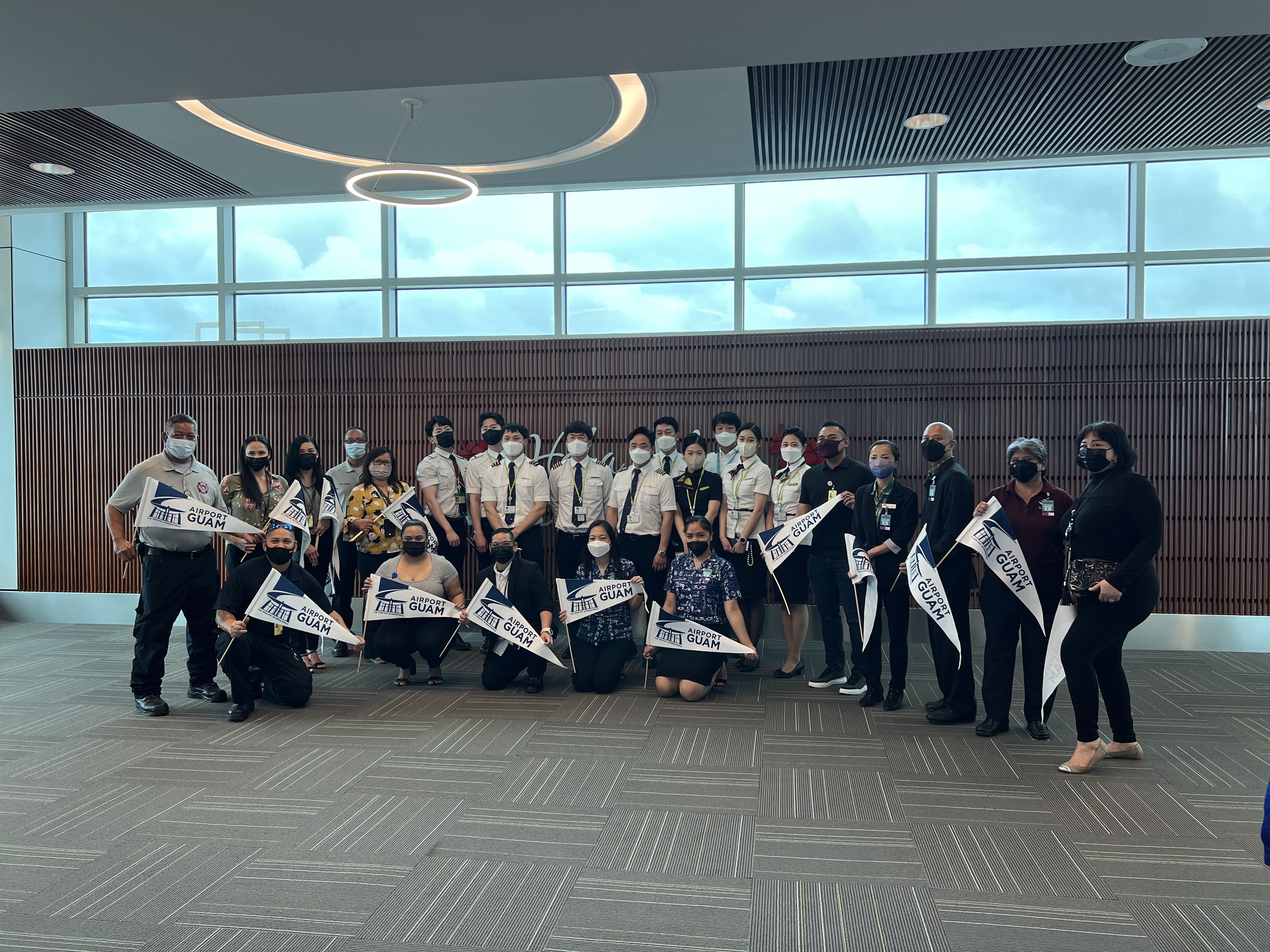 Quicklinks
To assist you in planning your departure or arrival at the A. B. WonPat International Airport, Guam, some general information is readily available...

Learn More